---
f you're experiencing discomfort from ailments such as corns, blisters, calluses, or a fractured toe, it's essential to have the right cushioning to alleviate the pain, enabling you to maintain an active lifestyle both at home and in your professional environment.

Little Toe Protectors are adaptable padding solutions designed to effectively mitigate troublesome foot concerns, keeping them from impeding your daily activities.
This product serves as an interface between your skin and your shoes, lessening discomfort while offering superior cushioning for enduring ease and comfort.
Utilizing these protectors, you'll discover a newfound ease in maintaining an active, healthy lifestyle, unencumbered by pain.


📌Features
This compact toe protector conveniently envelops your little toes, providing a comforting cushion to alleviate discomfort from corns, calluses, blisters, scrapes, and other forms of foot irritation.

It functions as a protective toe shield, safeguarding your toes from friction and lessening the stress exerted by your footwear. This makes most shoes more comfortable for various activities such as walking, running, hiking, or standing for extended durations.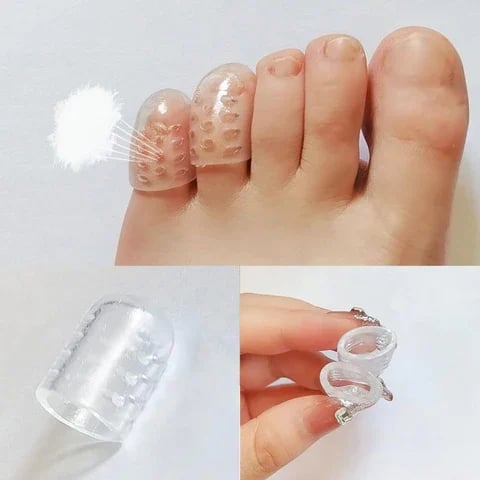 Given their transparent nature, these protectors blend seamlessly with your foot, maintaining discretion even when worn with sandals or flip-flops. There's no need for concern about them being noticeably visible while walking.

Constructed from latex-free, medical-grade silicone, these toe pads offer a soft and flexible solution that's simple to apply and remove. Moreover, they are washable and designed for repeated use.

📍Product Specifications
Material: Silicone
Size: 2x1 cm
🎁
Package Includes
1 x  Little Toe Protectors