---
Our products are guaranteed to be genuine and backed by authentic patents. Beware of counterfeits and ensure you purchase only from our verified sources!
👇 Wi-Fi enabled wax removal spoon with USB 1296P HD otoscope! 📢 This exclusive product is not available in stores and will sell out quickly! 🔥

The Wi-Fi otoscope seamlessly connects with Android and iOS devices, as well as tablets, up to a distance of 32.8 feet. Equipped with a 3-axis gyroscope, it delivers smooth image transmission, making it easier to operate and examine the ear canal.

Featuring high-definition resolution and a 3P medical-grade endoscope, this device uses an optical lens and a high-performance 500W pixel CMOS sensor to capture various perspectives inside the ear, opening up a multitude of possibilities for future exploration.

Equipped with six cold light LED lights, the device effectively illuminates dark areas for clear visibility. There's no need to worry about temperature fluctuations, as the integrated system maintains a constant temperature throughout use.
With an IPX5 waterproof rating, the device is easy to clean and offers a long-lasting lifespan. Its USB fast-charging capability allows for a complete charge within just one hour, ensuring continuous usage.
This versatile device has numerous applications, allowing users to not only examine the ear canal but also inspect the mouth, throat, nasal cavity, scalp, hair, and other body parts. It's an essential tool for maintaining family health.
The innovative technology combines PC and silicone materials to create elastic ear spoons that are gentle and comfortable on the ears, minimizing discomfort. (Please note that this product is not suitable for children under 3 years old).
The ear spoon head can be replaced to prevent cross-infection. The set includes two upgraded ear spoons made from two different materials: a durable zinc alloy and silicone combination, as well as an exclusive two-color silicone and PC design.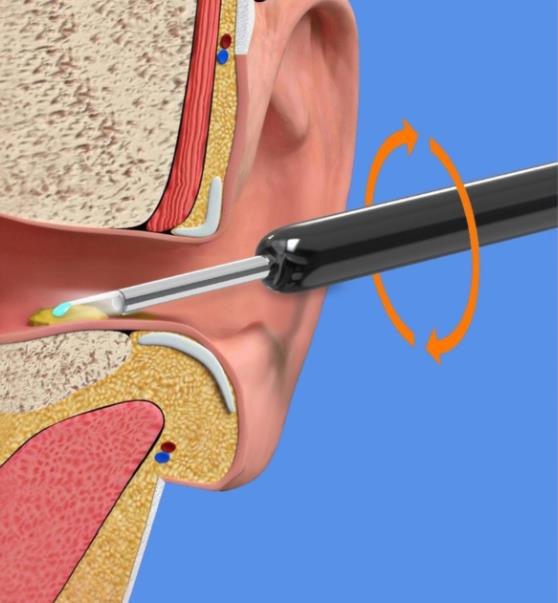 Specifications:
Condition: Brand new
Colors: Black, White
Resolution: 1296P HD
Operating frequency: 2.4 GHz
Image transmission rate: 30 fps
Image sensor: CMOS
Operating temperature range: 14.0-122.0 °F
Battery life: Approximately 35-40 minutes
Charging time: 1 hour
Battery capacity: 130 mAh
Input current: DC 5V 300mA
Lens diameter: Approximately 0.2 inches
Focal length: 0.6-0.8 inches
Gravity sensor: 3-axis
Package Contents:
1 x Wi-Fi Otoscope
4 x Ear Spoons
1 x USB Cable
1 x User Manual